Welcome once again to the Colourway Newsletter/magazine for July/August. It has been, frankly, too darned hot this last month, at least for those of us used to cool but mild Wales. I have one middle son and three cats who absolutely adore the heat while the rest of our family of five adults have been wilting like supermarket herb plants (my basil is definitely drooping). We do have to muster some energy though as the new season 'stuff', new yarns and colours, the Autumn Winter knitting and crochet magazine and much more will be arriving within the next few weeks so while Teresa in the shop slaves to organise some space for all of it, I shall be chained to my computer sweating buckets as I get the website updates ready.
Speaking of the website, we are trying out a new feature. When you go to the New In section you will see a little yellow lightbulb icon by some of the titles. This indicates the presence of a pdf file which you can download to your pdf reader on your computer and print if you wish. The file has the sizing, yarn requirements, tensions and needle sizes for each garment in the book. More of these little lightbulbs will be popping up as time progresses until they are available for all currently available Rowan titles.
Currently I am in the process of pulling together the image files for a new Kim Hargreaves title, Haze, which has just been delivered and which I have reviewed alongside Little Rowan Explorers as, with the summer holidays coming, mums everywhere might like to collapse exhausted in front of the TV after the little ones are in bed and pick up a knitting project which is designed to cope with the rough and tumble lives of our darling little ankle-biters.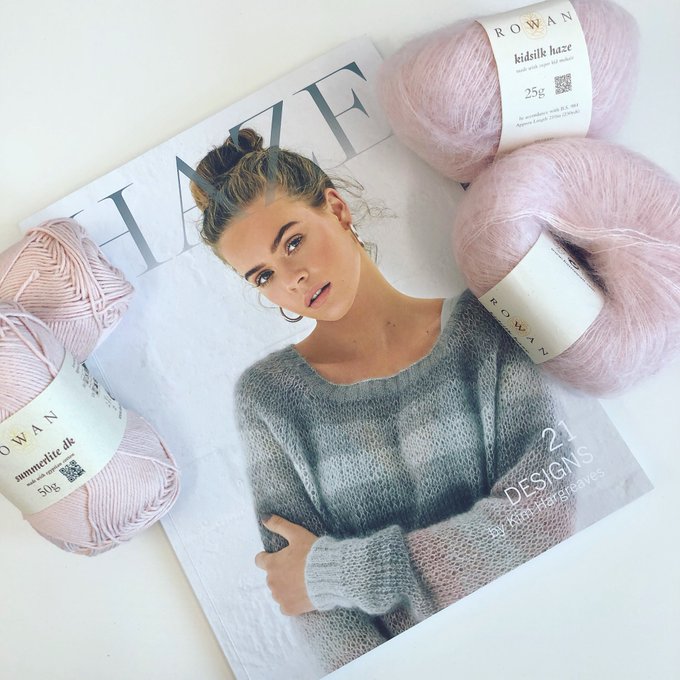 Sale. Our half price sale is ongoing, with the Debbie Bliss bundles going out really quickly, so we have recently added a load of Baby Cashmerino and some Rowan yarns to the sales listings.At 50% below RRP these yarns are unlikely to be found elsewhere at a lower price, because basically we are selling it for roughly what we paid in the first place, but are now desperate to make space for the autumn/winter stock so grab a bargain while you can.
It has been a cracking year for Rowan as far as industry accolades go, with them winning the British Craft Awards Knitting Brand of the Year title at a major craft industry show, and one of its newer yarns, Alpaca Soft DK coming second in the Yarn Product of the year category. Great news particularly since Rowan have been going through a major restructuring program over the past couple of years, and very encouraging in terms of the future for a label which reaches the ripe old age of 40 this year too.
To celebrate its ruby anniversary there will be lots of events in yarn stores throughout the UK, and the Autumn/Winter 2018/19 Knitting and crochet magazine will feature a whole 'story' themed around the Ruby anniversary alongside its usual range of contemporary patterns by its stable of world renowned designers.
RB64 is available now for pre-order and you can see all the designs, including a stunning Zandra Rhodes offering (see the cover shot above) which makes me very excited. If you click through on the cover picture you can access all the designs plus sizing and yarn usage details. You will also find in our New In section on the website advance pictures and pre-order availability for a number of new titles due out in August. In addition we have replaced the Stitch in Time feature with a closer look at the amazing 'Ruby' collection of patterns in RB64 with opinions from me... a lady who over the years has knitted pretty much of all of these designers at some point.
Colourway will definitely be joining in the Ruby Anniversary celebrations; we were Rowan's first independent London stockist and despite our move to Wales have continued to fly the flag for the brand (it must be about thirty five years now but Teresa and I are trying very hard not to count because it makes us feel old and we just don't have the time at the moment!)
We will be offering our own glittering prize of a free copy of the Ruby Anniversary edition of the Autumn/Winter Rowan Knitting and Crochet magazine to the reader who sends us the most interesting memory about knitting with Rowan yarns or designs - a picture of the project if you have it would be great too but the memories are the most important thing. So get your thinking caps on and dredge up some of those recollections. Closing date is August 31st and entries should be sent to maggie@colourway.co.uk (please put Competition entry in the subject line) and the memory will appear in next month's newsletter. Please include your name and address so we know where to send your prize!
To coincide with the anniversary we are also starting a new 'diary' column from September When Teresa, Tony and I retire...or at least step back a little after a few more years, we want the Colourway name to continue just like Rowan, with fresh eyes and enthusiasm. The shop and website will pass into the hands of my daughter Helen (already a competent novice knitter and starting to play around with design) and my son Alex. Although his major duties will be on the website administration and accounts side of things, he has decided that he wants to learn to knit and crochet, and we will start to chart his progress in Issue 3. As he's left handed it might be a bit of a challenge, but who knows, we may be nurturing the next Kaffe Fassett!